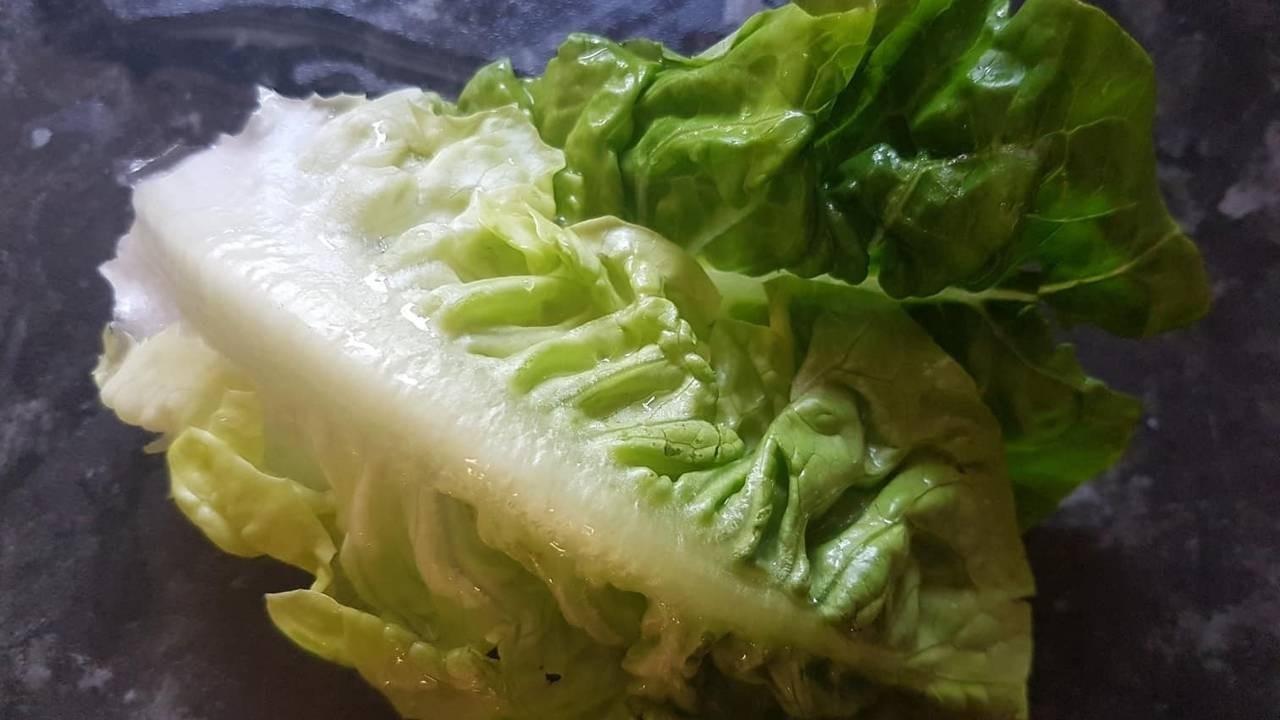 It was a lovely quiet peaceful early morning couple mile walk along the sea and James already had his quick swim at our half way turning around to go back point. Walking back, along the sea edge in the sand… out of nowhere… a woman came running toward us from behind yelling señor wait…stop… We have seen her many times in passing from a distance while on morning walks or sitting at her 'claimed' beach stone circle.. the one that protects you from winds here for more enjoyable beach day and picnics.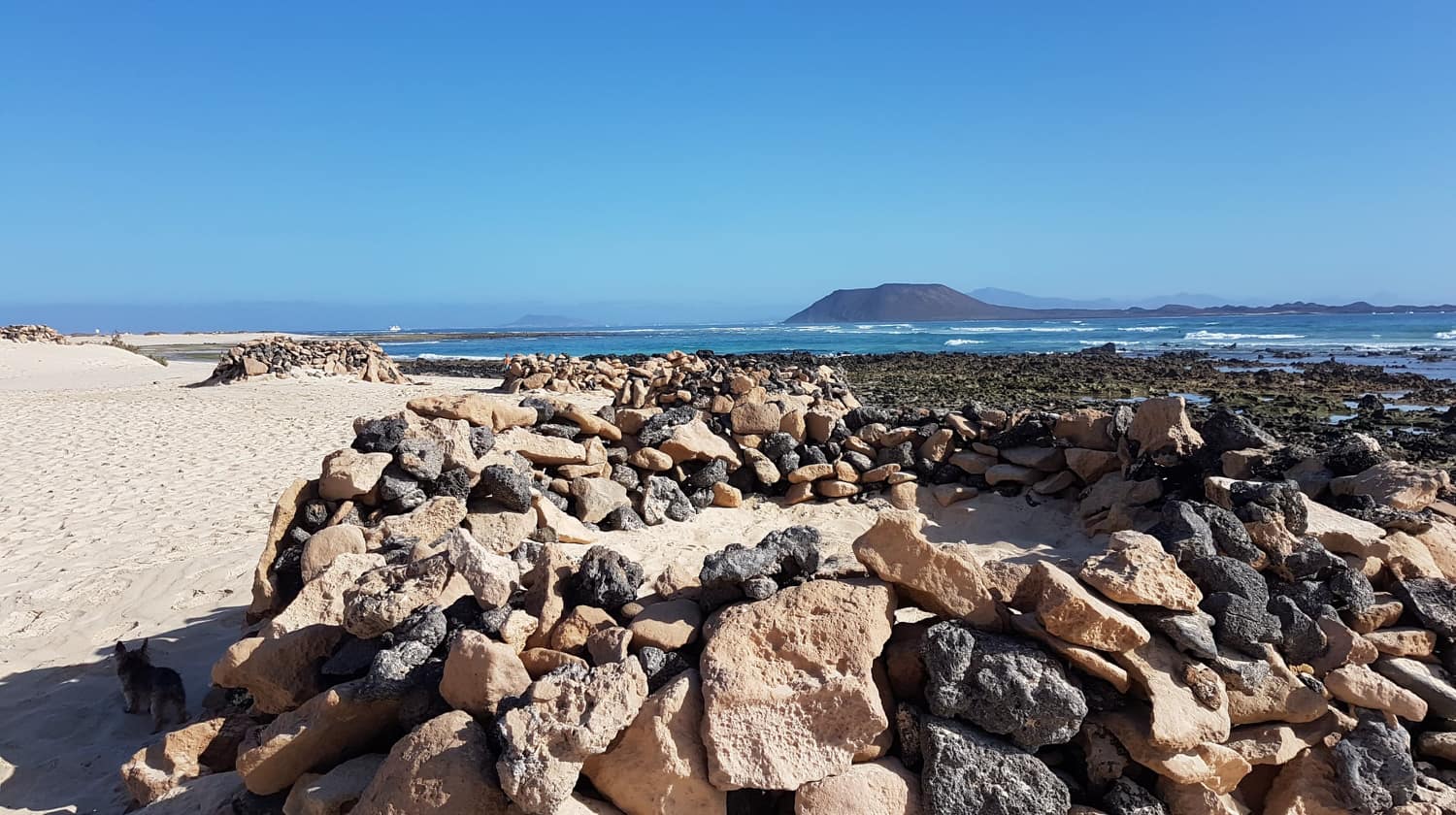 After several minutes frantic game of charades hand gestures, finger drawings in the sand.. cobbled super fast Spanish to English – English to Spanish translations back and forth… all the while with a most panicked look on the woman's face… James finally attempted to share what he thought she was saying to us…. 'Your Dog Ate My Piece of Lettuce!'…and 'There Are Little Paw Prints Where I Left It Sitting When I Went For My Walk.. Now It´s Gone!'
James and I are now staring at each other totally dumbfounded trying to let that register and process… for quite a few reasons…
1. That morning the tides were way down. We walked along the beautiful blue sea edge hopping and skipping across the black lava rocks that are exposed when the tides are way down as one of our way of maintaining regular agility and balance workouts while out for our walks. The stone circles are nowhere near the sea edge… They are up at the top of the sand embankment that you would have to cross over all the black lava rocks, go up the sand embankment and back a bit into the sand dune to be anywhere near 'her' beach stone circle.
2.. Claire was right by our side the entire time hopping and skipping across the rocks with us… and leading the way making sure we were following her most of the way.
3… Anyone who knows 'Claire: The International Business Dog'… knows she would never consider touching a piece of lettuce even with the best doggie treat or beef on it.. Now if the woman said vanilla bean ice cream or mango sorbet, Emmental cheese or piece of salami in tiny bits, even teeny tiny cut up bits of apple, pear or peach absolutely possible.. Bit of avocado if her favourite Monika gave it to her would even be possibility. Large Piece of Lettuce, to stand and munch through until gone or carry it away to eat… at 10 years old, missing teeth and super finicky about her food… thinking… 99% no way..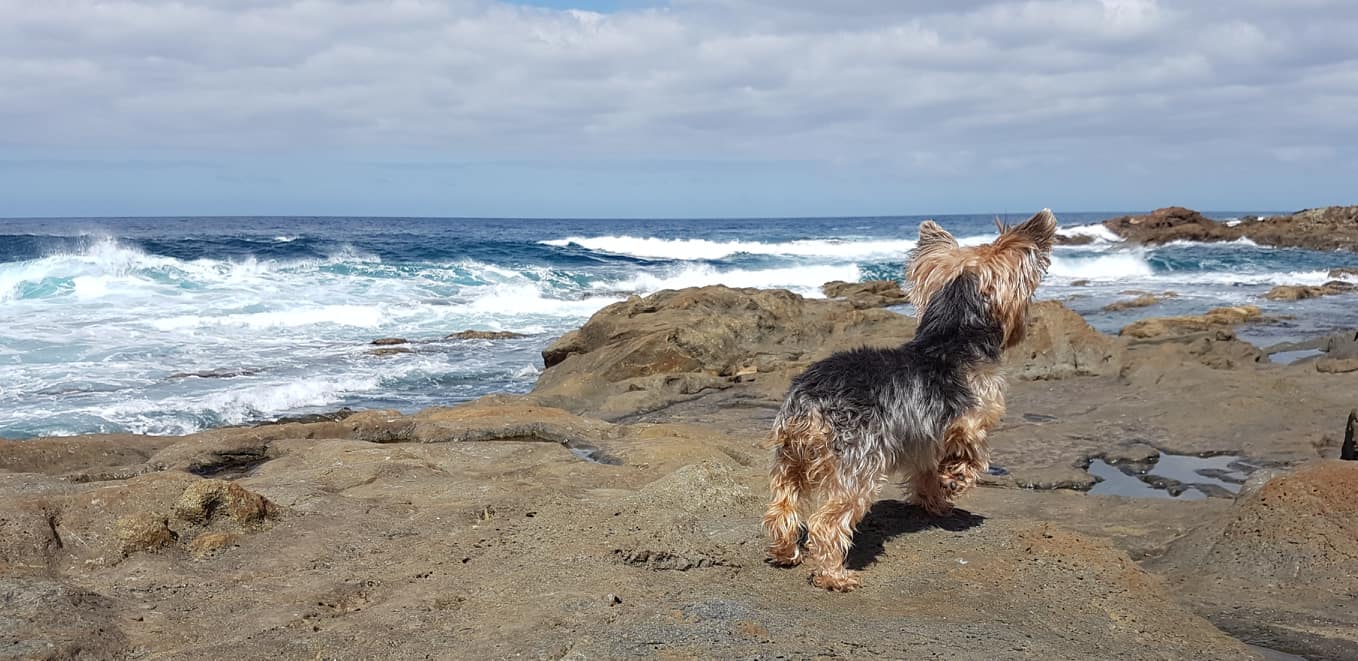 James was doing all the listening, game of hand gesture charades and conversing while I watched with zero comprehension what it was all about… The most concerning things for me were how far this woman had run down the beach to catch up with us from where her stone circle was.. had to be nearly quarter mile… Over a single piece of lettuce?? Why?? Her panic demeanour over it all… was even more concerning to watch without any idea what she was trying to say to James..
Now thinking… Oh My Goodness!.. Our dog is being called a 'lettuce thief' and blamed for something impossible to even have happened.. and this poor woman looks and is behaving as though she is panicked hungry..
Apparently James first thought he shared with her while apologising for her 'piece of lettuce loss' was perhaps it was one of the seagulls?? They are always hanging out on the lookout for food with all the people who picnic at the beach.. The woman also agreed thinking about it.. that was probably most likely what happened.. James and I both continued to apologies for her lettuce loss and she very sadly walked away back toward her stone circle.
As we made our way back to our car along the sea over the mile and bit walk James and I were both very shaken from that encounter, both for the same reasons.. Why would someone chase anyone down running after them that far, over 'a piece of lettuce'.. if they were not in hunger panic?… Her desperation and look while trying to explain to James what had happen was very disturbing for both of us…
We immediately decided, even though we had not had anything to eat yet and were getting hungry, we must go straight to the local supermarket to buy a few things to take straight back to her..
Shopping list… Lettuce, Loaf of Fresh Sliced Bread, Cheese, Container of Hummus, Butter, Salami, Bananas, Large Bottle of Water… That should keep this poor hungry woman going for several days and help make up for any loss or upset over her missing piece of lettuce..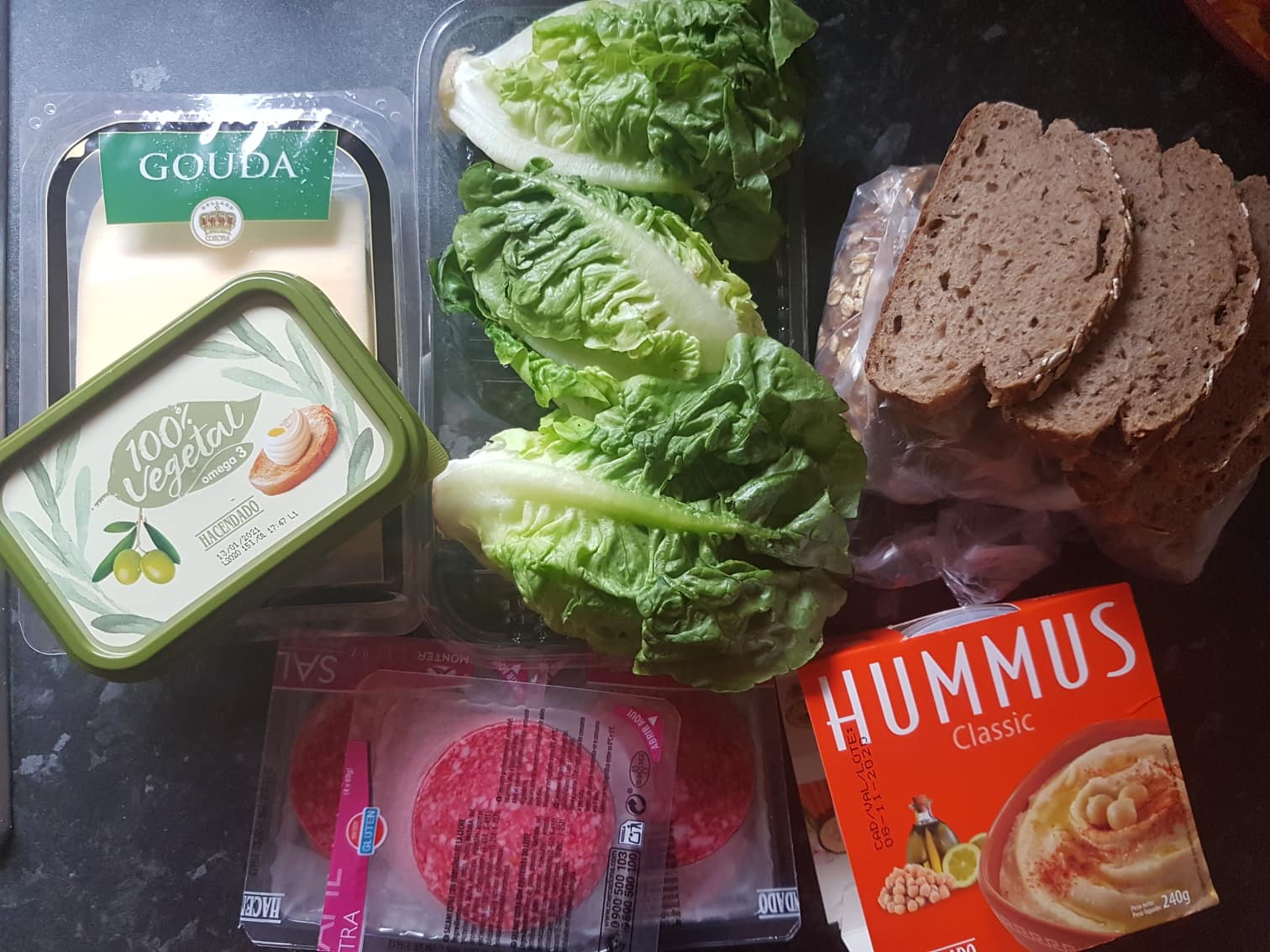 Back we go and find the woman at her regular stone circle with umbrella over it… There she is.. sitting out in the sun. There are also three very well dressed passers by that seem to know her, standing chatting with her. We wait a bit.. they are not leaving… we wait a bit longer… still standing chatting…
James finally walks up to her with large grocery bag of food and pulls the 3 small heads of lettuce in a package out and says.. "A gift to you from the seagulls"… then he pulls out the fresh bread.. cheese, water…
She absolutely refuses all of it… and starts laughing… no… please no… it´s ok… no… I do not need this… Thank you though for doing this..
At this point… James now tries to give the bag of groceries to the three passers by asking if they would like to have a picnic at the beach with it? Everyone is now laughing… James asks the woman one more time if she will take the bag of food to enjoy it.. and she again says please.. no thank you… I'm ok really…
On our drive home… we were still asking ourselves what that was 'really' all about?? Why would someone run chasing us so far down the beach as she did.. blaming Claire… while looking so panicked over a missing 'piece of lettuce'?
· Perspective · Paradigms · Assumptions ·
She and we had both made wrong conclusions based on our perspectives, paradigms & assumptions, which were completely incorrect about each other..
Had she not chased us down to tell us her 'assumption' about Claire: The International Business Dog and us for allowing her to steal her piece of lettuce.. we never would have known her negative and incorrect thinking and feelings that she would have carried about us every time we saw her again in passing while out for our morning walks.. She most likely would also have told others how angry she was at that 'naughty little dog' and 'those people'.
We also made incorrect 'assumptions' about her… wondering if she might have become homeless and was now desperate hungry with her little piece of lettuce that disappeared..
No matter the incorrect 'assumptions'.. we only knew we had to be sure to help her right then …and to be certain if any negative feelings or questions were being harboured by her still.. we had to set that straight even knowing it was impossible what Claire was being accused of doing… knowing we will see her many times again in passing while out for our morning walks… and to be sure there were only positive feeling seeing each other again.
We have seen this woman several mornings since… We still do not know her name, though she is happy smiling waving hello (she never did that before).. Claire also runs up to her and runs around her saying hello when she sees her as we are passing each other and the woman now stops for couple seconds, has big smiles and pets Claire (neither did that before)..
Still no idea what that was 'really' all about running chasing us quarter mile down the beach over 'a piece of missing lettuce'.. though the outcome has been most positive possible.. and will no doubt be even better going forward into the future.
There are times.. you just do the right thing for the right reason and just keep going.. The future will reveal what it was all about one day.. and if not.. you still did the right thing for the right reason.. shifting a few paradigms along the way.
…And most importantly… ALWAYS leaving others better for having met you… whatever the random 'Your Dog Ate My Piece of Lettuce' situation that brought you together…