Solar Panels for Senegal Schoolchildren
in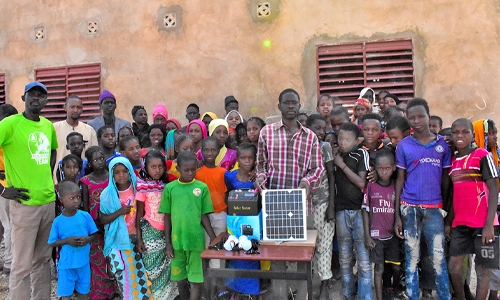 A story about a small act that has a big impact on Senegal school learning.
In our events, emails and social media posts, we encourage you to increase your Impact on the world. 2020 – a new year and a new decade is starting. Lorrie & I have resolved to increase our positive IMPACT and Ripples in the world as well as encouragement to you and your IMPACT-ology journey.
We do this because… when you help others… you help yourself.
If you were at our October 2019 IMPACT-ology event in Port Huron-Michigan USA, you might remember we collectively agreed that $1 spent in the community has more impact on well-being than $1 spent anywhere else.
Here is an Amazing local IMPACT-ology story of how that is working: Tiny Solar Panels for Senegal Schoolchildren Immediately Improve Their Learning.
There is an organization on our Spanish island in the Atlantic ocean 60 miles off the coast of Sahara Desert and Africa that provides a summer school here for young people from Senegal to learn life skills to take back to their villages and improve their daily lives. Senegal is a small sub-saharan west African country not far (as the crow flies) from us. In their villages, they don't have electricity in their homes or schools. That means no light after dark. This limits how much homework the children can do.
So the organization on our island donated 500 solar panel kits and are teaching the teachers and students how to assemble and install them in their homes (and schools). These solar kits are very small, enough to light up 4 LED bulbs. Though small, it is enough to provide light for students to complete their homework at home.
Their teachers now report an immediate measurable jump in the rate of learning! 
If I gave YOU those little solar panel kits, I doubt it would have much impact on your life. Giving them to these Senegal children, and teaching them how to assemble and install themselves, has made a massive, immediate, positive IMPACT on their lives now and into their future.
QUESTION: What will your ripples be into the new year and decade of 2020… and beyond?
P.S.. Lorrie also wants to know.. With so many incredible things to do every day in this amazing world (many with very simple solutions just waiting for your help to make them happen)… What is Your Age Goal now..?